The holidays are upon us. What do you buy that special person/friend/lover/host in your life who loves a good happy hour, especially a happy hour in Richmond, VA? Here are our top picks (with some exclusive savings) for the 2022 holidays. Please note: Some of the links below are affiliate links, meaning that RVA Happy Hours will receive a commission at no additional cost if you click through and make a purchase.
$59.99; Use the code RVAHAPPYHOURS at checkout for free local shipping within 30 miles of Richmond
Not in a position for an in-person happy hour? Send your recipient all the ingredients to make a happy hour drink on their own.  The kit includes a 750 ml bottle of Cirrus Jala-Piña vodka (a Richmond distillery), an 8 oz bottle of Crescent Simple's Syrup Lime Jalapeno (a Richmond business), a four-pack of Q Ginger Beer, 6 oz of dole pineapple juice, two limes and a recipe card with 3-4 different cocktail ideas. The kit is a perfect last-minute gift because it can be delivered the next day if purchased during the week.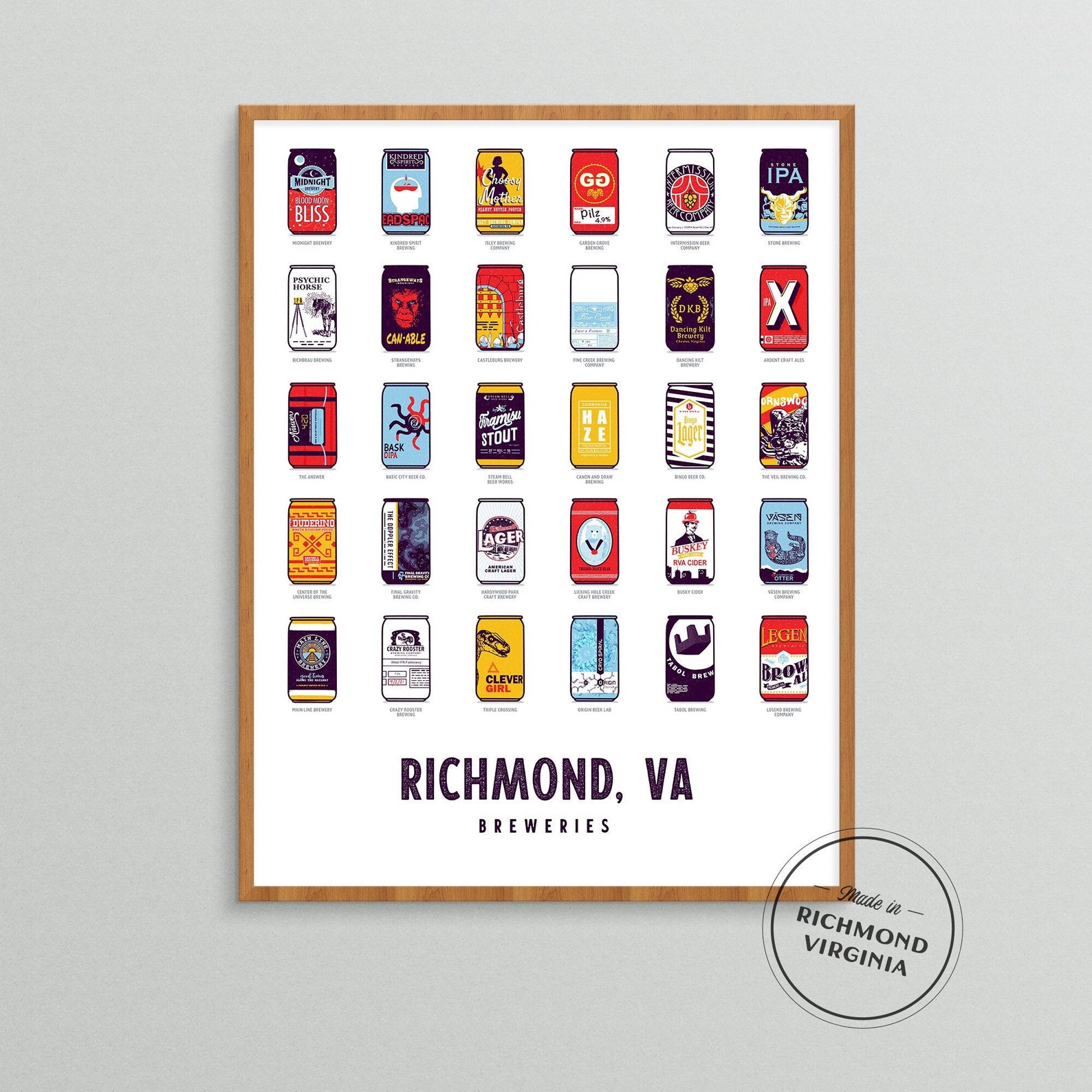 $20-$30 + shipping
Richmond is a beer city. Give that beer lover a visual representation of all their favorite watering holes. OFungStudios is a Richmond-based design and illustration studio.
$65 for a small tray, $120 for a medium tray + $20 delivery fee; Use the code RVAHappyHours10 at checkout for $10 off a medium or large tray through December 20, 2022
Gift your recipient a decadent wine and cheese night (they'll just need to add the wine 😉)  with a charcuterie board/box delivered to their door from Out The Box Charcuterie.  Each board includes a variety of cheese, nuts, fruit meat, and other nibblers. Boards can also be customized for nut-free, vegetarian or gluten-free recipients. Out The Box Charcuterie is a Richmond-based charcuterie and cheese board business.
$225; Use the code RVAHH10 at checkout for $10 off the wine subscription through December 31, 2022
Give the gift that keeps on giving through the winter with 3-months of wine delivered to your recipient of choice's door. Membership in the wine club includes four hand-selected, private-selection wine bottles delivered each month with tasting and pairing notes. Richwine is a Richmond-based boutique online wine retailer.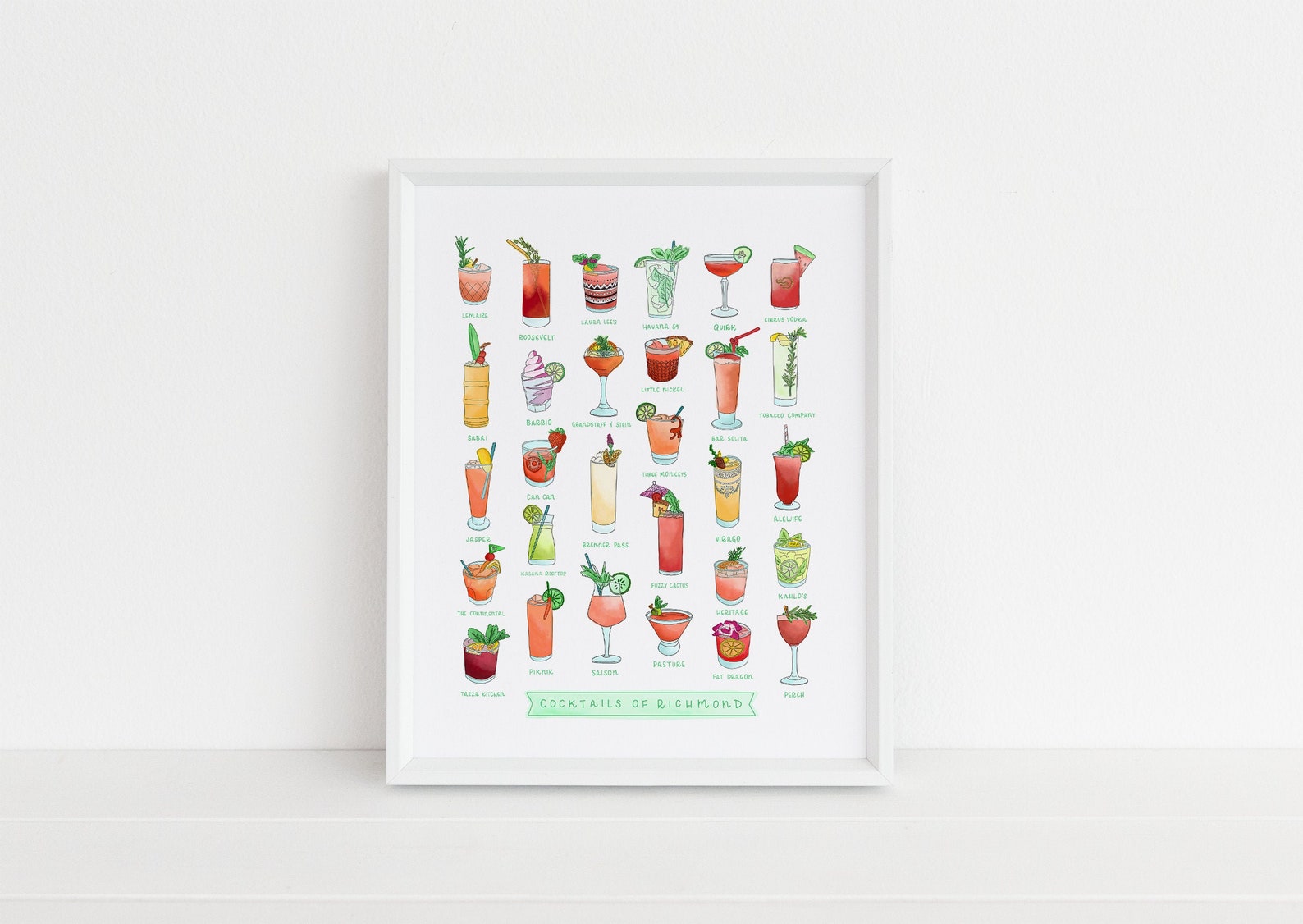 $25-$30; Use the code RVAHAPPY at checkout for 20% off the print
A bright & whimsical illustrated print of the most beautiful, delicious RVA cocktails. Includes illustrations of  29 drinks representing some of the best restaurants, distilleries, and bars in Richmond, VA. The print comes unframed in 8×10 or 11×14 sizes. Sunday Table Co is a Richmond-based print shop.
$28-$80 + shipping; Use the code HAPPYHOUR at checkout for 15% off any size of the print
A hand-lettered, illustrated map of RVA neighborhoods with the best cocktail bars and restaurants. Featuring spots like Longoven, The Jasper, Amuse, Brenner Pass, Fuzzy Cactus and The Jungle Room (to name a few). Comes framed or unframed in 8×10 or 16×20 sizes. Mizsant is a Richmond-based artist.
$169 + shipping; Use the code FIRSTBOX10 at checkout for $10 off your first subscription order
Buy your giftee a round of drinks on the house, their house that is. Each box includes 3 recipes and everything you need to make 12 drinks (4 from each recipe)—syrups, bitters, garnishes, mixers, and citrus. You just add the alcohol. Your recipient will even get an email before each box arrives with suggestions for a bottle that'll work well, bar tools to have on hand, a playlist pairing, and more.
$41.95 per set of glasses
If there ever were a more perfect cups for an RVA happy hour, it'd be this one. The set of glasses is decked out in drawings of quentissential Richmond locales, like Maymont, Lewis Ginter Botanical Gardens, and more. The glasses can be bought in-store only at All About the Beverage inside the Shops at 5807 in Richmond, VA.
$14 per glass
Get the party started with the coolest glasses from Pop of Confetti. Light up the party the party in more way than one with this unique drinking glass that looks like a disco ball. Pop of Confetti is a gift shop featuring local artisans in Carytown in Richmond, VA.
$22.95
Nobody likes a watery happy hour beverage! Give your recipient the gift of better drinks with this sphere ice mold from Mongrel. This tray makes four large ice spheres, ideal for the slow dilution of stiff cocktails, just how we like 'em. Mongrel is a Richmond-based gift store in Carytown